---
Switching Between The Telescopes
To switch between telescopes select the "" icon in the upper left-hand corner of the screen.
The telescope list will display a list that shows operation status beneath their names.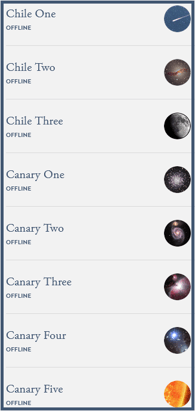 Look for the telescope you're interested in, check its status, and select it.
---
Snapping Images
When watching a live feed, you can manually snap images.
View your available picture slots by looking at the row of black photos across the top.

Select the " " icon above the feed to take pictures.


These will fill in with your snapshots.

After being taken, your snaps will be immediately available to view in your Photos section on the dashboard.

---
Checking Conditions
The right-hand panel for each observatory displays the current status and weather conditions.

Further information, including real-time views from the Dome Cams and AllSky Cams, is also available on the telescope pages.
From the Dashboard, you can scroll down to the "Observatories" section and view conditions.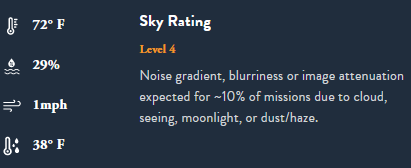 How To Check the Conditions That Could Have Affected My Photos From the Previous Night.
A Status Report is provided on the telescope pages each morning. When they are offline, each Telescope's page lists the observatory's status report and conditions as well as notes for the previous night. (Note: If you navigate to this page while the telescope is online, you will not be able to see this summary of the previous night).

Click the Dome icon on the left of the main navigation bar, and click on the telescope you want to check.
Scroll down the page to the "Observatory Information" panel.
Select the "Status Report" tab to view the conditions and any technical reports for the night before.
---
---