---
The Dashboard
The Dashboard is your home page where you can check your Gravity Points, View your Badges, use the Quest Map, and join missions.
Gravity Points
GP or Gravity Points, are the points you earn by going on Missions, completing Quests, and taking Photos. Underneath your name, you will find the amount of GP you've garnered from using The Online Telescope, as well as the name of the Historical Astronomer that represents your GP level.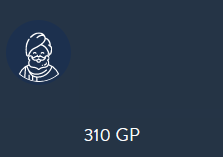 Badges
These are displayed under your GP. At the end of each quest, you will be given a badge of completion. That badge will fill in with gold and the insignia related to the quest. As you finish more quests, you'll earn more badges and access to more quest media.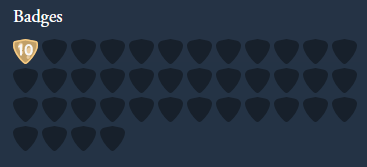 ---
Missions & Observatories
Observatories
The Observations section is where you can check out recent observations of objects shared among users. You can view the "Featured" tab, which displays a selection of recent observations that have garnered 10 or more likes or use the "All" tab to see all recently posted observations. As you scroll through the observations, you can also like and comment on them for an extra GP boost.

Missions
The Missions section lets you view any missions that you have either joined or set up yourself. It comes with a sub-section called "Featured Missions." These are missions suggested by Slooh Astronomers that you can join immediately by selecting "Join Mission."

Join Missions
You can join a preexisting mission right from the dashboard! Select the "Missions" tab from the Navigation Bar, and in the "Missions" section will be a list of preset Missions ready to be joined at the click of a button.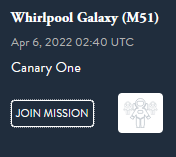 You can also join any mission set up by other users by clicking the "Mission Setup" option and selecting the "By Telescope" tab. A list of missions that are scheduled by other users will display and you can select the "

" icon in the upper right-hand side corner of the mission to join it.
Note: Missions renew automatically after use and can immediately be used again.
---
Photos & Observations
Photos
The Photos section allows you to view any pictures you've taken, any observations you've made, missions you have waiting, and galleries you've created. It also allows you to view your badges and finished quests in the "Quest Media" section.

Observations
The Observations section allows for observations across the site to be shared among users. You can either view the featured observation wherein you can like and reply, or you can look through all observations, and find one specific to your interests.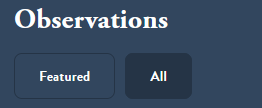 ---
Workspaces
The Workspaces section is set up for teachers, whether they be K-12 or University professors, to create private pages and invite their students to join. Here, students can participate in observations and activities with their classmates.

---
Support Portal
The Support Portal is a section on our site that connects you with any Frequently Asked Questions, troubleshooting tips, and general knowledge. To find the Support Portal select the "

" icon in the upper Right-Hand corner of the screen. Then, select "Support Center" from the drop-down menu.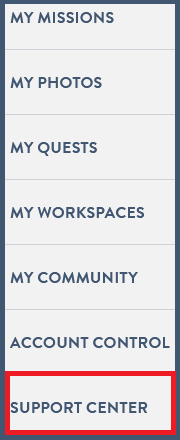 ---
Bookmarks
If you scroll down to the bottom of the dashboard you'll find the Bookmarks section. This section allows you to look at the objects, guides, star parties, and illuminations that you have previously saved.

---
---